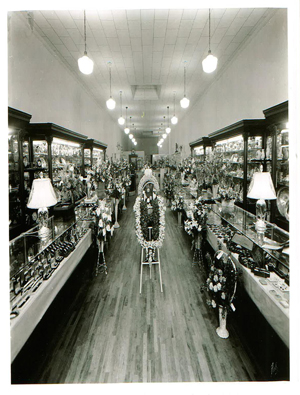 Holland's Jewelry, certainly the oldest jewelry company in West Texas, may also be the oldest continuously operating retail establishment in the region. Ownership by the Holland family began in 1918 when Chase Holland, Sr. purchased a jewelry store at 113 South Chadbourne in San Angelo, Texas, from Mr. C. C. McBurnett and renamed the business "Holland's Jewelry." Prior owners can, however, be traced to 1891. In addition to traditional jewelry and watches of the period, Holland Jewelry was widely recognized for its extensive inventory of fine silver, china, and crystal.
In 1936, with the country emerging from the difficult years of the Depression, Mr. Holland designed a miniature sterling silver spur tie clasp as a symbol of recognition, given to someone who had "earned his spurs." Two of these first "spurs clips" were presented to President Franklin Roosevelt and Vice-President John Nance Garner. Over the years, many other celebrities, politicians, and dignitaries have been presented spur jewelry as gifts of both accomplishment and gratitude. The spur clip marked the genesis of Holland's Jewelry's debut into the world of jewelry manufacturing, specializing in hand-crafted buckles, spur jewelry items, and a variety of other hand-made, hand-engraved specialty pieces, many of which are still in production.
In 1940, the store moved to a new location with a larger manufacturing shop at 11 West Beauregard. Chase Holland's son, Chase, Jr, graduated from Texas A & M and immediately went into the service in 1942, serving in the Army Air Corps during WWII. When he returned to the states after the war, he met Virginia Henkel in Winter Park, Florida, as he was completing his military service. Married in 1946, they returned to San Angelo where Chase, Jr. joined his father in the family's jewelry business. In 1960, when founder Chase Holland, Sr. died, Chase, Jr, assisted by his wife, Virginia, assumed the management of the company. Soon after, Chase Holland, Jr's. untimely death in 1968 left Virginia Holland with the reins of the company. With the capable help of Mr. George McCormack, a certified horologist, Mrs. Holland ably continued with the development and success of Holland's. In 1969, older son, Chase Holland III graduated from Texas A & M and entered into the family business. In 1976, after working for four years for the US Treasury Department, Bill Holland, also a Texas A & M graduate, returned to San Angelo to join his mother and brother. Brant Horner, Angelo State University graduate began his relationship with the family business in 1985 and quickly worked his way to head jeweler. In 2012, Virginia Holland, who had been actively involved in Holland Jewelry with three generations of the family, passed away. Brant Horner then purchased company stock and is now a partner with Bill Holland. Chase Holland III retired in 2013. Brant Horner and Bill Holland now share in the ownership and responsibilities of Holland Jewelry.
A new free-standing building was completed in 1999 at 501 West Beauregard on the corner of West Beauregard Avenue and South David Street, where it enjoys a spacious location with an expanded shop, easy access, and ample parking.
Holland's Jewelry is a member of The American Gem Society, Jewelers of America, Jewelers' Vigilance Committee, Better Business Bureau, and many other trade organizations. For nearly 100 years, Holland's has been committed to providing professional, knowledgeable service while offering quality diamonds, jewelry, gemstones, watches, and exclusive gift items.
We Can't Wait To Meet You!